Biogia and Hottie Warming Wipes for Clean-Care and Personal-Care
The Biogia family of warming wipes are easy to carry and use for the people on the go or for those situation when normal hand washing facilities are not available or the cleanliness and sanitation of the facility is questionable.  It is also a great way to introduce your young ones to the habit of cleanliness and its importance. Biogia towels can be heated before use in microwave or by other gentle means of heating.
Biogia Warming Wipes are designed with substrate that are biodegradable and flushable causing minimal impact on the environment.
Biogia Warming Wipes are safe and effective. It kill 99.9% of  germs including disease causing bacteria and most viruses. Biogia wipes provide added continued protection for 2-4 hours against germs transferred via direct contact when not washed away by water after cleaning the skin with wipes, keeping you safe for a longer period. Towels when flushed or disposed in landfill do not leach out any toxic substances that can impact animal or marine life. The substrate itself safely degrades over time.
Biogia Warming Wipes are alcohol free and impregnated with mostly natural and GRAS (generally recognized as safe) ingredients. They are hypoallergenic, non-cytotoxic and safe to use for almost all skin cleaning, personal care and sanitizing purposes. Care should be taken to avoid eye contact when using in the proximity of eyes, such as for removing eye makeup.
These attributes make the Biogia Warming Wipes an added line of defense in compromised settings such as hospitals and elderly facilities or in emergency settings.
Kills 99.9% of the germs
Safe and effective
Alcohol free
Made with Natural and/or GRAS (Generally Recognized As Safe) ingredients.
Biodegradable
Nontoxic
Can be heated in microwave before use for increased comfort and performance
Kid friendly
Biogia Warming Wipes can be used any time around the house, while travelling and camping, in public settings - like airplanes during flights, in the hospitals, in long-term care centers, by paramedics and in other emergency situations.
Feel assured and clean whenever you use Biogia Warming Wipes.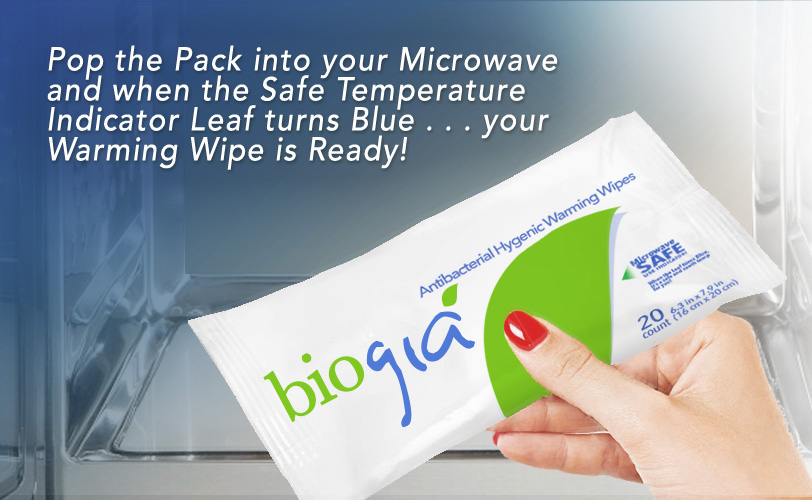 Self-Heating Biogia Warming Wipes
Self-heating version of the Biogia Warming Wipes are for those occasions when a heated towels are needed but a convenient heat source is not available, or where convenience of use is preferred or required.
These wipes have all the same performance properties as the regular Biogia Warming Wipes but have a portable heat source incorporated within the package. Heat is generated by a heating module that contains a mineral and  water separated by a thin film. Heating module is activated by applying pressure at the designated spot on the outer package by pressing between a thumb and finger, the film separating the mineral and water is ruptured causing two to come in contact and generate heat. It then heats the towel stored around the heating module within the outer package. These self-heating towels can be made one to a package or multipletowels with in a package with a common heat source for multiple and simultaneous use, such as on a dinner table.
It takes only 30 sec-1 minute to heat the towel once activated. Warming Wipe will remain at the useful temperature for a reasonable time approximately 15-30 minutes.
The towels for consumer personal use are designed to reach a temperature of 120º -140º F (50º-60º C). Towels can be designed to reach a wide range of use temperature (40º-90º C) based on specific application.